About Us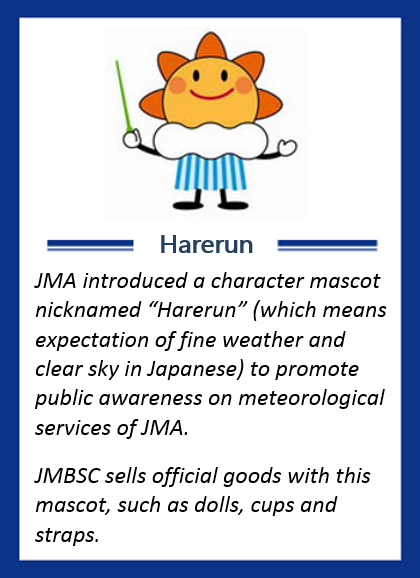 The Japan Meteorological Business Support Center (JMBSC) is a general incorporated foundation* inaugurated in 1994, in accordance with the Meteorological Service Act of Japan, under the supervision of the Japan Meteorological Agency (JMA), National Meteorological Service of Japan.

JMBSC aims at supporting the sound development of meteorological services in the private sector and the efforts by the authorities concerned towards the promotion of public welfare such as prevention/mitigation of natural hazards and prosperity of socio-economic activities, and offering research and international cooperation.
* A 'general incorporated foundation' is an organ officially registered with the government to ensure a variety of services on a non-profit basis.
Since its inauguration, JMBSC has provided a wide-range of services, particularly in the following five major fields:
JMBSC leaflet (PDF)
September 2020

June 2017

May 2017

February 2017

October 2016