Dissemination of Meteorological Data, Products and Information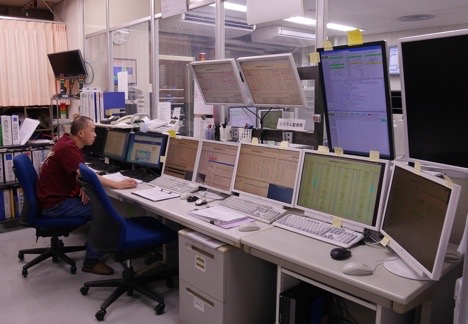 Real-time Data Dissemination Operation
In 1993, JMA established a policy to widely open a variety of meteorological data, products and information prepared by JMA to the private business sector, the mass media and other parties. In line with this policy, the Metrological Service Act of Japan was accordingly amended, and JMBSC was officially designated by the Director-General of JMA as a unique authorized organization to disseminate the meteorological data, products and information to various users at marginal cost. The dissemination is carried out on a real-time basis through the network server system operated by JMBSC and in the form of recording media such as DVD/CD-ROM.
Real-time Dissemination
The following meteorological data, products and information are disseminated to national and international users under contract with JMBSC on a real-time basis through a dedicated line, the Virtual Private Network (VPN), the Internet and telephone-facsimile:
Meteorological observation data (SYNOP, METAR, RADAR, etc.) collected by JMA, including surface data observed by the Automated Meteorological Data Acquisition System (AMeDAS) which covers all over Japan at more than 1,300 sites, as well as radar data;
Grid Point Value (GPV) data of numerical weather prediction (Global Spectral Model, Meso-scale Spectral Model, Local Forecast Model, Climate Prediction Model, Ocean Wave Model, etc.) and objective analyses of JMA;
Imagery data and raw data (HRIT format) obtained by the Geostationary Meteorological Satellite MTSAT (Himawari-8) operated by JMA; [JMA successfully launched the next generation geostationary meteorological satellite (Himawari-8) on 7 October 2014 and started its operation on 7 July 2015 as a replacement of Himawari-7.]
Very short-range forecasts of precipitation and nowcast;
Analysis and forecast charts issued by JMA;
Weather forecasts, advisories and warnings including typhoon warnings;
Marine meteorological and oceanographic observation data, ocean wave model products, etc.;
Seismic and volcanic observation data of JMA;
Earthquake early warnings;
Tsunami warnings;
Atmospheric environmental monitoring data such as those of UV-B and Aeolian dust.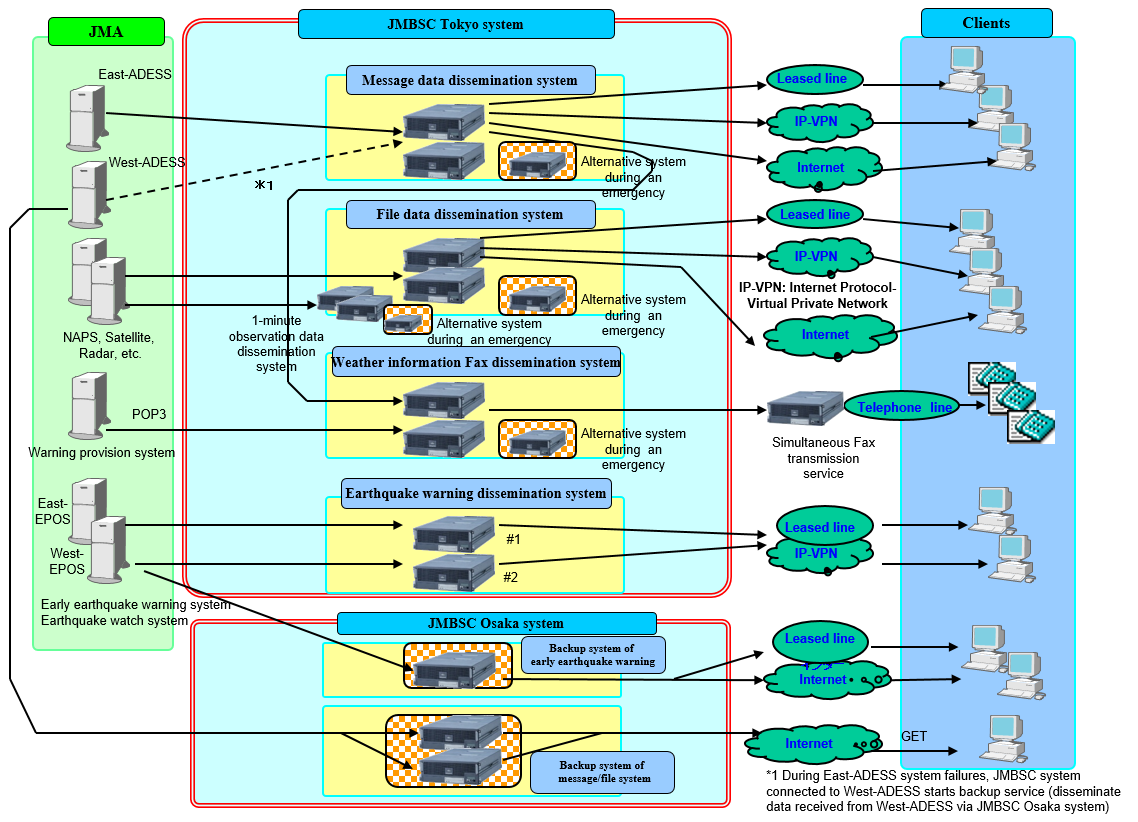 JMBSC Data Dissemination Diagram
Non-real-time Dissemination
Summary and individual observation data, quality-controlled by JMA, including those of radar, surface, upper-air, tide, ocean-waves and earthquakes;
Summary of meteorological satellite (GMS/MTSAT) imagery;
Monthly and annual observation reports;
Monthly analysis products including re-analysis with the numerical models of JMA;
Statistical reports on metrological, environmental and marine observations.
The non-real-time dissemination service is available upon request in the form of DVD/CD-ROM by surface mail as well as through FTP file transfer.